Cycling
Try walking or cycling sometimes,  here are the average journey times for the Sandyford Business District.
Cycling is a really great way to get in and out of Sandyford and there are loads of cycle lanes all around the area. Cycle parking is available at Luas stops and throughout the business district.
Cycling provides a fast and efficient journey at very low cost, it's pollution free, good fun, and there's no additional cost for every journey made.
The average cyclist can cover up to 12 miles an hour by bike.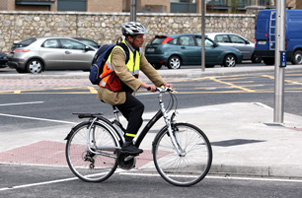 Cycling also reduces traffic and car parking pressure – 10 bikes can be parked in the space of one car! Company 'pool bikes' can also be used for whizzing around to meetings, helping reduce the cost of mileage and reducing your carbon footprint!
Cycle to Work Scheme
The Cycle to Work scheme allows companies to deduct the cost of a new bicycle from your pay before tax. Loads of people have availed of this incentive. You pay roughly only half the cost of the bicycle and you can then enjoy whizzing past all the traffic in and out of work. Your local bike shop can give you details of this scheme and a form to bring to your employer.
Bike Shops in the Sandyford Area
Hollingsworth bikes, 1 Drummartin Road, Kilmacud Road – www.mycycle.ie
FitzCycles.ie , Old Church Road, Stillorgan – www.fitzcycles.ie
Joe Daly Cycles, Dundrum Road 2981485
Stillorgan Cycles, St Laurence's Park, Stillorgan 2887318