Representatives of local businesses, including the Sandyford Business Estates Association and companies from each estate comprising the Sandyford Business District joined Dun Laoghaire Rathdown County Council on Friday for a breakfast to mark the launch of the Sandyford Smarter Travel Area
The gathering was attended by DLR Cathaoirleach John Bailey, Councillors and County Manager Owen Keegan. At the meeting, details were provided of how companies can go about their mobility management planning and how the initiative will be promoted across the area using branding and area specific transport information.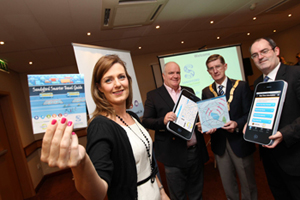 Cllr. Maria Bailey pictured with Jim Leyden, Chairman of Sandyford Business Estates Association, Cllr. John Bailey, Cathaoirleach of Dun Laoghaire Rathdown County Council and Cllr. Gerry Horkan at the business breakfast briefing for Sandyford Smarter Travel.
Additionally, a mobility management specialist will initially visit up to 30 businesses to offer advice and information on smarter travel and the easy steps they can take to help their employees commuting to and from the Business District.
The ultimate aim of Sandyford Smarter Travel is to establish a Mobility Management Planning Network between companies in the Sandyford Business District, together with the County Council and transport authorities and providers on a long term basis.
Details of the Draft Area Wide Mobility Plan for Sandyford Business District were also provided with a view to formally launching this plan on 1st December 2011. Comments on this draft plan are invited to sustainabletravel@dlrcoco.ie